Welcome
to Euans-Art.com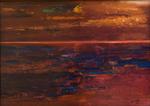 With a philosophy that is simple and straightforward, a dream has become a reality. "Whatever you are passionate about, do it to the glory of God."
Dan has been an artist most all of his life and has dreamt of the time he could devote all his time to painting and now he does. Dan is a man of faith and has served the Lord by ministering to the sick, lonely and grieving. He is also a sensitive artist with a quick mind for finding beauty and endless compositions in everything that surrounds him. After agonizing over balancing the two calls in his life, he choose to pursue the roll of artist full-time. In doing so, Dan's hopes are to share his God-given talents with the "public" and feels that he will be able to reach more people through his art. Dan's works are not all spiritual, per se, but he has an awesome way of accentuating and bringing to life the blessings of God. Whether he is painting a portrait of your loved-one or family pet, or a beautiful flower garden, Dan captures the magnificent creations of God.

Dan works with many different media, such as acrylic, charcoal, oil, pastels, pen and ink and watercolors. Dan's subject matters are as numerous as the media he uses, from abstract, portraits of humans and pets, plein air, spiritual, western, and wildlife. If you can imagine it and describe it, Dan can paint it! Dreams, hobbies, experiences, vacation spots, and a room's décor have inspired many of Dan's works.

In addition to being able to commission Dan to do an original work of art, most of all the originals in the gallery are available for purchase, unless otherwise indicated. Limited edition, signed, numbered prints are also available of most all the originals in various sizes.
We welcome you to our website and hope that you enjoy our online gallery. We look forward to the opportunity of providing an original piece of art for you.