William Euans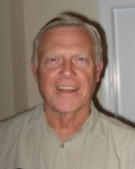 William "Bill" Euans III was born in Columbus, Ohio on March 23, 1938. He graduated from the Columbus schools and went on to study at The Ohio State University, where he attained a Bachelor of Fine Arts degree.
Bill, much like his little brother Dan, has been an artist from an early age, always drawing and painting. Along his career path, he worked at various advertising agencies as a commercial artist.
A career Naval Officer, Bill spent 25 years at sea and ashore. Bill retired from the U.S. Postal Service, where he carried mail for 17 years until retiring to become a full-time artist.
Bill enjoys working with watercolor and acrylic. His subjects range from wildlife to landscapes, from floral to spiritual. Bill has sold his paintings through various venues and has his works in private collections worldwide.
Bill resides in Deltona, Florida with his wife, Patricia and their family. Bill is active in the art leagues in Florida and is currently holding the position of Vice President of the Deltona Art Club.
You can contact Bill at: 2540 Rusk Court Deltona, FL 32738.